In Memory
Williiam C. Hearrell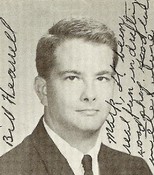 William Clay Hearrell
William Clay Hearrell, 49, died Tuesday, January 14, 1998, in a Big Spring hospital.
Services will be at 2 p.m. Thursday in Elliott-Hamil Funeral Home Chapel of Memories, 542 Hickory. Burial will be in Elliott-Hamil Garden of Memories.
Mr. Hearrell was born in Alice and lived in Abilene most of his life. He was a U.S. Navy veteran.
Survivors include his parents, Dave C. Hearrell Jr. and Melba J. Hearrell, both of Abilene; one brother, Dave C. Hearrell III of Abilene; five sisters, Suzanne Marie Hearrell, Sarah Lou Hearrell, Mary Jane Hearrell and Carolyn Jo Brooks, all of Abilene, and Pamela Grace Roberson of Lubbock; and many nieces and nephews.