In Memory
Daryl McLaren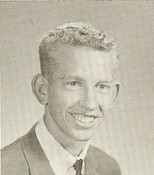 Daryl Wayne McLaren
Daryl Wayne McLaren
Hawley
Daryl W. McLaren of Hawley, Texas died at home May 1, 2013.
He was born on April 26, 1949 in Graham, Texas. He was a 1967 graduate of Cooper High School. Daryl married Kathy Raye Smith on August 24, 1985.
He retired from Chevron Oil Company. He was then employed as a Production Supervisor for Pepsi until he retired again recently.
Daryl is survived by his wife, Kathy; his mother, Jimmie McLaren of Liberty Hill; two sisters, Kelly Post of Liberty Hill and Bobbie Hale of Hawley; two step-children, Melissa Ragan of Abilene and Fred Muniz of Denver, Colorado; and four grandchildren, Cassie, Alexis, Jaden, and Darylynn.
There will be a family only memorial service with a private scattering of the ashes.

Published in Abilene Reporter-News on May 5, 2013